Overview
The plantar fascia is a tough and flexible band of tissue that runs under the
sole
of the foot. It connects the heel bone with the
bones
of the foot, and acts as a kind of shock absorber to the foot. Sudden damage, or damage that occurs over many months or years, can cause tiny tears (microtears) to develop inside the tissue of the plantar fascia. This can cause the plantar fascia to thicken, resulting in heel pain. The surrounding tissue and the heel bone can also sometimes become inflamed.
Causes
Currently no single factor has been reliably identified as contributing to the development of plantar fasciitis. The two risk factors with the most support from current research. Decreased ankle dorsiflexion. Increased Body Mass Index (
BMI
) in non-athletic populations. These factors are related in that both lead to increased strain on the arch, both lead to increased compression on the heel. When dorsiflexion range of motion (ankle flexibility) is lacking, the body compensates by increasing movement of the arch. In this way, decreased ankle dorsiflexion influences pronation and places strain on the underside of the foot. Similarly, having a high
BMI
causes strain because it places a load on the foot that may be in excess of what the foot can support. As mentioned earlier, overpronation is thought to be a contributing factor, but studies on this have so far produced mixed results. The second way these factors relate to each other is in the way people stand. A lack of ankle flexibility and a high
BMI
can both cause increased pressure on the heel in standing. Keeping weight on the heels causes compression under the heel. But it also means the muscles and ligaments in the arch are not being used to balance your body weight. Lack of use, I suspect, is a greater danger than overuse. Looking beyond these potential contributors to heel pain though, there is one major factor that overshadows them all-the way footwear alters the normal function of the foot.
Symptoms
Plantar fasciitis typically causes a stabbing pain in the bottom of your foot near the heel. The pain is usually worst with the first few steps after awakening, although it can also be triggered by long periods of standing or getting up from a seated position.
Diagnosis
Your doctor will check your feet and watch you stand and walk. He or she will also ask questions about your past health, including what illnesses or injuries you have had. Your symptoms, such as where the pain is and what time of day your foot
hurts
most. How active you are and what types of physical activity you do. Your doctor may take an
X-ray
of your foot if he or she suspects a problem with the
bones
of your foot, such as a stress fracture.
Non Surgical Treatment
Treatment for plantar fasciitis should begin with rest, icing, and over the counter medications. As mentioned above, an orthotic is a device that can be slipped into any pair of shoes and can often relieve pain and help to reverse the damage and occurrence of plantar fasciitis. They do this by adding support to the heel and helping to distribute weight during movement. In addition to orthotics, many people consider night splints for treating this condition. These devices are worn during the night while you sleep, helping to keep the plantar fascia stretched to promote healing. Physical therapy has also become a common option. With this conservative treatment
alternative
, a physical therapist designs a set of exercises that are intended to address your specific needs in order to promote healing.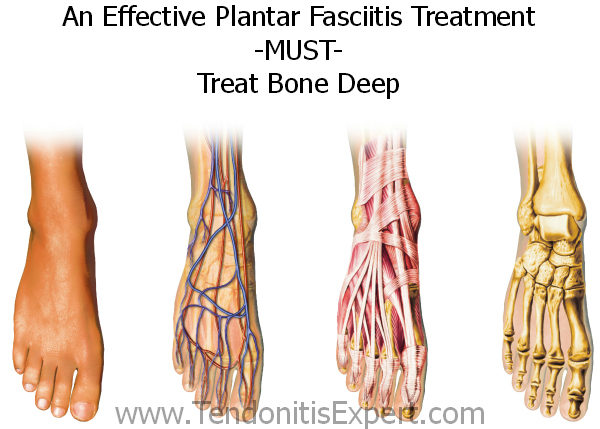 Surgical Treatment
More invasive procedures to treat plantar fasciitis are usually sought only after other treatment has failed to produce favorable results. Corticosteroid injections deliver medicine into the injured fascia to reduce pain. However, this treatment may weaken the plantar fascia and result in further damage. In addition, extracorporeal shock wave therapy (ESWT) is a treatment where sound
waves
are sent through the damaged tissue in order to stimulate the damaged tissue and encourage healing. This method is relatively new in treating plantar fasciitis and your doctor will be able to tell you if it is the right method for you. Lastly, surgery is the last option for those suffering from chronic or severe plantar fasciitis.